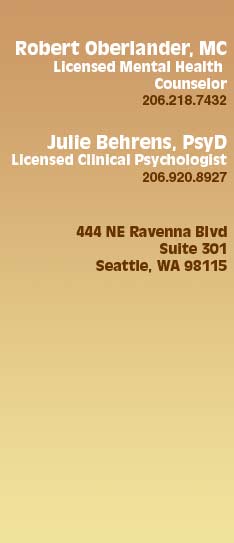 Robert Oberlander, LMHC





I am a Licensed Mental Health Counselor and state-approved Child Mental Health Specialist. I have more than 25 years of experience working with children, adolescents, adults, couples and families. My style is interactive; I like to give useful feedback in a nonthreatening, sometimes humorous way.



I use cognitive behavioral, solution-focused and family systems methods to help clients to formulate and pursue healthy goals while drawing on their own strengths. With my experience as a special education teacher, I can coordinate with schools and parents on behavior management and screening for attention deficit hyperactivity disorder (AD/HD).
---

Julie Behrens, PsyD



I am a Licensed Clinical Psychologist who works with children and adults in individual, family and couples psychotherapy. My approach is tailored to the needs and goals of the client. I use the client's present situation and history to guide the process, with cognitive behavioral and systemic interventions to assist.

I have advanced training in psychodynamic therapy and can help clients identify both short-term solutions and long-term, underlying patterns of thinking to effect change. I can coordinate treatment with other professionals involved
with the client.

What do these terms mean?



Behavioral Health

Our collective name, Behavioral Health Associates, describes how we help people reach their personal goals. By focusing on how people act and react to their environment (behavior), we provide opportunities for people to take action in specific and observable ways, leading to a positive outcome (health).

Counseling or therapy?

Much has been written on this subject, but we use these terms interchangeably. Traditionally, the term therapy refers to a "deeper" more long-term approach, emphasizing a person's history, early influences, unconscious, development and so forth. And traditionally, counseling was more closely associated with what we now call "coaching," that is, more problem-solving and goal-setting, in the

here and now. Most counselors draw from a variety of approaches.




Usually relatively short-term, cognitive behavioral therapy is based on the idea that our thoughts (cognition) influence our emotions and how we act or react (our behavior). We often have patterns of thinking we may not realize that are unrealistic or distorted. This form of therapy helps people to recognize these patterns and gives them "tools" or alternative ways to think and respond to situations. Most studies point to cognitive behavioral therapy as the most effective therapy for relieving symptoms of anxiety, depression, and many other conditions. It is also considered the most cost-effective. Studies also show that cognitive behavioral therapy, when used in conjunction with psychotropic medication (such as an antidepressant), tends to bring about a more positive outcome than medication alone.
A form of brief or short-term therapy that helps people identify and use their own strengths to get to their goals. Solution-focused therapy emphasizes the here-and-now as opposed to the client's history.
Refers to the theory that a person's distress is a result of unconscious conflicts. The therapist's goal is to help the client identify these conflicts and the difficulties they may cause the client in the present. Therapy then focuses on creating more realistic goals and expectations for the client's self-concept and relationships.
Refers to the theory that a person's symptoms are related to the interactions in the various systems in his or her life, particularly the family or the workplace. Therapy is focused on changing these interactions to alleviate the person's anxiety or frustration.